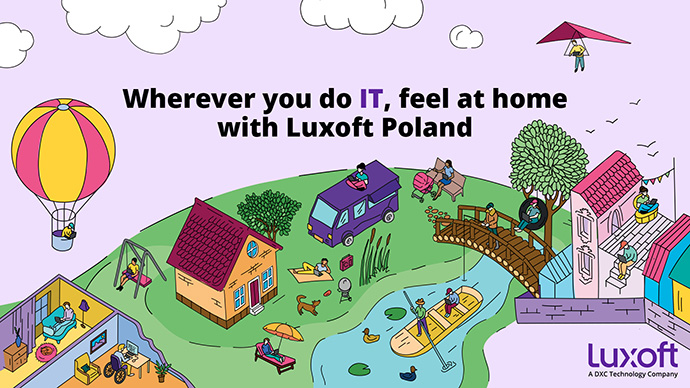 – All stages in our recruitment process can be done remotely –
Murex Back Office Senior Consultant
Location: Warsaw
PROJECT DESCRIPTION
Join our Competence Centre in Warsaw and become a member of our open minded, progressive and professional team. In this role you will be working on projects for one of our world-famous clients. You will have a chance to grow your technical and soft skills and build a thorough expertise of the industry of our client. On top of attractive salary and benefits package, Luxoft will invest into your professional training, and allow you to grow your professional career.
This is long term project of reimplementation of an old Murex instance using the latest MX.3. Project is Front to Back with the full scope of ERM and regulatory.
The project will include an end to end redesign of the solution based on the MXpress best practices.
RESPONSIBILITIES
We require an experienced Murex Back Office Consultant. The role will suit an functional resource with extensive knowledge of the Murex BO. You will facilitate workshops with business users to understand requirements and create functional and technical specifications by working with the business to understand process while advising on Murex best practice.
SKILLS
MUST
10+ years' experience of Murex 3.1 within Back Office area
Requirements Gathering & Documentation
Murex Contract, Deliverable, Event, Murex MxML-Doc and Swift Confirmation & Payment templates
Excellent knowledge of MxML Exchange workflow and Interfaces.
Excellent knowledge of XML using XSLT, Murex MSL and MxML format.
Experience working with Sybase (15)
Experience with SQL
Good functional and technical understanding on the Settlement instructions
Strong knowledge of the different post-trade interactions between the various actors of capital markets including services providers
Technical knowledge of SQL, XSL. Client focus: understands clients' businesses; identifies and understands the needs and objectives of clients, both on an individual and corporate basis; builds strong relationships to aid
Innovation and change: recognizes and responds positively to the need for change; creates and harnesses ideas and opportunities
Communication skills: expresses ideas effectively, both verbally and in writing; adjusts language, terminology and non-verbal communication as appropriate.
Teamwork: works effectively with others; helps to build strong teams and networks.
Personal leadership: realistically identifies own skills, experience, knowledge and other personal attributes; displays confidence and resilience.
Results driven: knows how to get the work done most effectively; delivers a high quality service.
Planning and organising: identifies and meets milestones; understands and articulates deliverables; assesses and mitigates risks; sticks to the scope of work and manages any changes.
Analytical decision-making: identifies and solves problems using insight and experience to make good decisions; gathers relevant information, identifying important issues and drawing conclusions.
Interpersonal skills: develops and uses a wide range of strategies to influence and persuade others; gains acceptance and commitment from others.
NICE TO HAVE
JAVA knowledge
CAREER AND PROFESSIONAL DEVELOPMENT
Competitive salary
Luxoft Training Center
Access to e-learning Library
Individual development plans
Long-term cooperation with possibility to gain experience in different projects and technologies
A significant number of professional communities (Agile Community, Tech Community, Business Analysis Community, etc.)
Well-being
Group Life Insurance
Private healthcare insurance – LuxMed. Unlimited access to specialist consultations with Dental Care included
Medical costs reimbursement for employees (up to certain amount per quarter)
Travel Insurance
Benefit Program – Cafeteria and Multisport Card
Work-Life Balance
Various communities (sport, recreation activities, trips, board games, cultural and educational activities)
Discounts program for employees – BeLux (banking offer, car leasing offer and cafeteria program discount)
Convenient locations in a modern offices with game rooms
Multinational projects for clients all over the world